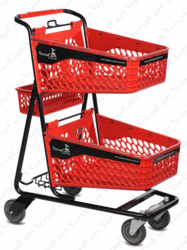 The T-100's value added EXpress design features:
• Large 6,000 cubic inch capacity in small compact cart.
• Functional and attractive design to encourage more cart usage.
• Plastic design reduces damage to store fixtures and autos while complimenting store branding and decor.
• Cart will nest in only 7.28".
• 5" easy roll non-marking wheels.
• Features a purse hook for shopper convenience and a rear basket with a built in cup holder
• Short wheelbase allows for maneuverability in narrow aisles and congested areas.
• Two-tier design allows for separation of purchases and esay access to bottom basket.
Standard Colors: frames in black or metallic gray finish . Plastic baskets in Red, Black, Blue, Green or Lite Gray. Custom color combinations are available in quantity. Your store name and logo can be printed on the handle and body panels
For more information and a no-obligation quotation contact Joseph Solinsky , Indoff Store Fixtures + Equipment at 410.967.9556 or via email at joseph.solinsky@indoff.com.